BuildCert
To ensure that chemical inhibitors meet a satisfactory performance requirement the manufacturers, BuildCert and laboratories developed the CIAS Industry Specification for the performance of Chemical Inhibitors for Use in Domestic Hot Water Central Heating Systems (February 2006).


The Specification was published in February 2006 and is now being used as a benchmark for chemical inhibitor manufacturers as a basis for developing chemical inhibitors and by BuildCert to offer third party Certification.

Equipment manufacturers, installers and end users can now be sure that BuildCert approved chemical inhibitors will provide an effective resistance to corrosion within a heating system when correctly used.


Chemical inhibitors are tested in BuildCert approved laboratories who test the inhibitor against the exacting requirements of the BuildCert Domestic Water Treatment Approval Scheme (CIAS) Specification for the performance of Chemical Inhibitors for Use in Domestic Hot Water Central Heating Systems. To ensure that BuildCert Certified products are suitable for use, manufacturers are audited to verify that the contents of every bottle of product supplied are identical to the samples tested.



Metal coupons tested in untreated water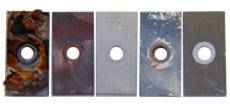 Metal coupons tested with a Buildcert Inhibitor added



Inhibitor Quality Standards

The BuildCert Chemical Inhibitor Approval Scheme (CIAS)
The DWTA has developed a product performance standard to test whether chemical manufacturers' inhibitors deliver tangible system benefits. Developed through industry consultation, the standard ensures that all approved products meet the required level of efficacy. Independently certified by BuildCert, products are assessed against the DWTA standard and checked for consistent quality. BuildCert is a United Kingdom Accreditation service (UKAS) accredited product certification body (number 110) specialising in the certification of water related products.


Chemical Inhibitor Approval Scheme (CIAS)




The longevity and efficiency of water heating primary circuits and boilers, including central heating systems, can be greatly improved by the use of chemical water treatment. The purpose of these treatment fluids in central heating systems is to:


• inhibit corrosion of vital metallic parts such as pipes and radiators,

• prevent scaling up of the system, and in particular the boiler.


In addition the fluid should not cause damage to plastic and rubber components of the system and should have a low environmental impact.


All chemical water treatment fluids certified by BuildCert are tested against standards drawn up by industry experts to ensure that they perform to the criteria above. BuildCert's quality assurance requirements check that every bottle of water treatment fluid sold with the BuildCert CIAS log on it performs as well as the last. BuildCert CIAS Approval allows boiler manufacturers, installers and consumers to have peace of mind that their hot water system is protected.